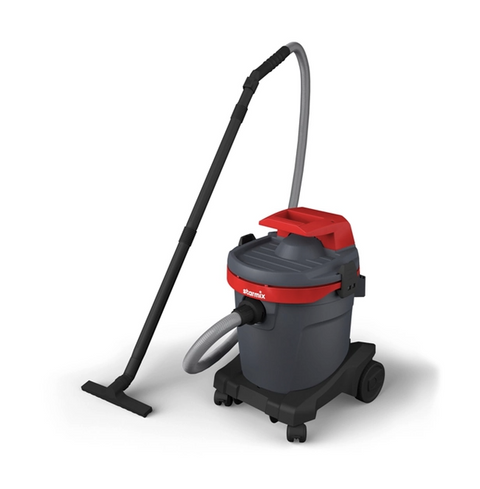 Starmix NTS 1232 EHB Vacuum Cleaner
STARMIX NTS A-1232 EHB Vacuum Cleaner is a professional Starmix vacuum cleaner for work at home, garage, basement and home workshop. Convenient, handy and affordable.
NTS eSwift A-1232 EHB
- 32 l plastic tank
- protection against overfilling with liquid (float)
- cellulose filter FP 3600 (3600 cm filter surface) - dry operation
- w FBV 25-32 bag included,
- 5 m power cord (PVC, red)
- power tool socket (automatic switch) Technical data:
Max power: 1200 W
Max air flow: 70 l / s - Max vacuum: 210 mbar
Article no .: SX016528
Max tank capacity: 32 l gross; 27 l dust; 20 l water
Noise level: 72.5 dB (A)
Dimensions: 45 x 39 x 56 cm
Weight: 6.5 kg Accessories included: EHB
· 1 x suction hose ( Ø 35 mm x 3.2 m)
· 1 x plastic elbow
· 2 x plastic extension piece (50 cm)
· 1 x crevice nozzle
· 1 x rubber nozzle < br> · 1 x universal nozzle BG
Optional accessories:
· KS02 paper bags
· STM02-1 microfiber bags The Starmix company is one of the three largest manufacturers of industrial vacuum cleaners in the world, as well as a leading manufacturer of collaborative vacuum cleaners with power tools.The Starmix assortment includes specialized vacuum cleaners designed for working with such waste as grinding dust or asbestos, hotel, household and even fire vacuum cleaners.Starmix products are of high quality and meet dust containment class standards.